DAISY Global is A Crowdfunding smart contract that offers profits, equity and income to every member. You do not have to refer people to earn, because passive income can be earned from DAISY's business activities. However, if you are attracting referrals, there are several ways to earn money with the D.AI.SY referral plan. Additional Income 3 × 10 Forced Matrix Bonus. Personal referral bonus. Matrix Check Matching Bonus. Pacesetter Revenue Share Bonus. Initial Infinite Bonus. Infinite check matching bonus.
Referral Plan:Instant Payouts. Up To 46% Payouts.
Rewards For Contributors:
• Up to 10 Crowd Funding Tiers to choose from starting at just $100.
• Every contributor gets their equal share of 5% stock.
• 50% to 70% of each contribution is used in trading for development.
• 70% of the trading profits are rewarded back to the contributor.
• 15% of the trading profit are rewarded to the residual referral plan.
• Contributors can withdraw trading rewards at anytime.
• All members are able to participate in the Daisy referral plan.
• Referral plan pays out up to 46% of each contribution.
Daisy Forex AI Presentation Oct 2022 :
Passive Income:
Benefits Even If A Member Does Not Refer Anyone.
1. Owning equity - potential return from selling stock or receiving dividends in the future
2. Trading rewards - potential rewards from successful trading performance of DAISY's AI System
3. Potential matrix spillover
, generating maximum of 48% return on crowdfunding contribution from spillover in the referral plan, even with no referrals
Crowd Fund Tier Table: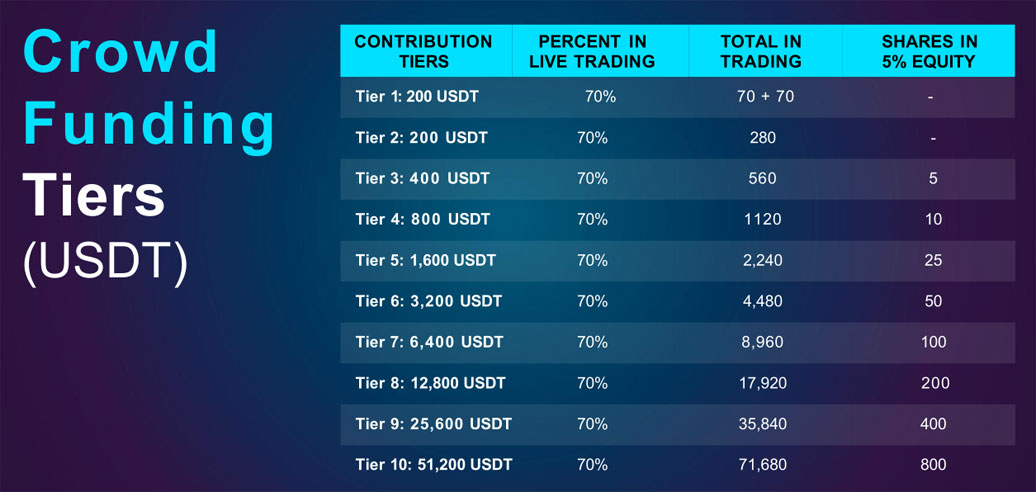 Daisy Forex AI Crowd Fund Contribution Momentum Packs Explained:The momentum pack is a ONE TIME REBUY from tier 5 onwards. Before you confirm it shows you the exact amount that goes into trading. All tiers from 3 and above will give you 70% for trading and only tiers from 5 and above will give you 90% if you buy them second time, but if you buy them third time then again you will get 70%. Exception is if you have all 10 tiers purchased, then you can buy unlimited momentum packs.
Referral Plan:
Instant Payouts. Up To 46% Payouts.
Upfront Income
3×10 Forced Matrix Bonus
Personal Referral Bonus
Matrix Check Matching Bonus
Pacesetter Revenue Share Bonus
Upfront Infinity Bonus
Residual Income From Trading Profits
10 Generation Unilevel Trading Bonus
Infinity Residual Bonus
Stock Equity
Daisy Rewards Plan:
1 page explanation of NEW FOREX BONUS POOLS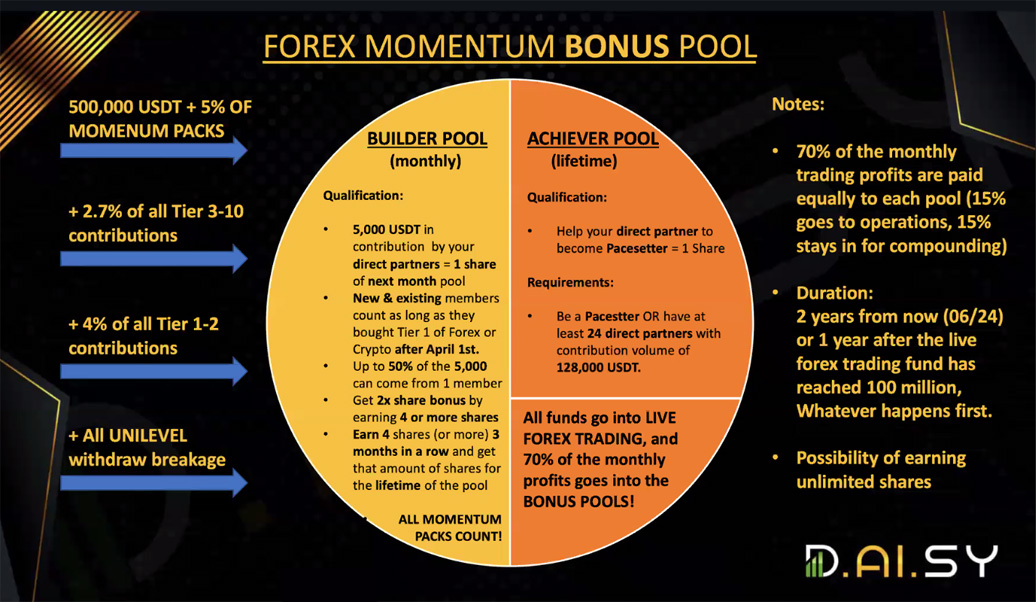 DAISY GLOBAL CALL January 3rd:



2st ever D.ai.sy Global event:

Daisy Global Event Dubai February 21 & 22 2023; Daisy 2 year anniversary, Dubai Coca Cola Stadium, www.toldyouso2023.com for info & tickets.


Daisy Disrupt Highlight Video:

D.AI.SY is the number one, and largest crowd funding project ever created raising funds for the development of AI (Artificial Intelligence) financial technologies that will change the financial industry. In addition we are funding a DeFi Launch Pad platform helping the decentralization of finance. In the first 6 months since its launch on March 30, 2021, more than 170,000 people from over 100+ countries have participated contributing more than $200 million USDT in crowd fund contributions. You can earn passive income as a crowd funder as well as lucrative upfront and passive rewards by sharing D.AI.SY with others.
Friendly reminder:


1. No financial advice can be given You have to go through the materials and determine by yourself if this is a good investment for you.

2. No one can predict the future ROI an it's not wise to promise you any ROI.

3. This is not an investment. You are contributing to a crowdfund. Read/watch the material to understand then make an informed decision

4.The DAISY AI smart contract has been formed. Once invested, Crowd funds cannot exit arbitrarily. After the development of the DAISY AI system is completed, DAISY will provide a withdrawal plan for trading funds, but you can always withdraw trading profits without time limit.

5.Daisy maintains long-term stable profitability under the premise of ensuring the safety of funds. This is a long-term project, not a short-term profiteering project.

6. Purchasing the Daisy Crowd Fund packages is a contribution to the equity crowd fund for the Daisy AI development and not a trading investment. DAISY is giving both shares of stock in the company and profit sharing from trading results, to each Contributor as crowd funding rewards.

7. Right now you can only withdraw profits. Later on when crowd funding limit has reached and goes public, you can withdraw everything if you want.

Learn all about Daisy AI



DAISY Global is a disruptive crowd funding model for financial technologies, a trusted Crypto & Forex AI trading platform with broad prospects and development potential. DAISY Global is A Crowdfunding smart contract that offers profits, equity and income to every member.

=>【Click Here to Join Now】




Excellent Crypto project platforms:
Meta Force is an upgrade to the popular Forsage. Meta Force is a smart contract that requires you to network with people and build a solid team structure. You can earn income fast and all earnings are paid instantly to your crypto wallet. You receive 100% as referral commission; Even wider spillovers possibilities,Meta Force Eco-system, Unlimited Income Potential.You can get started with just $10 USD, This is a golden opportunity nobody will want to miss.

=>【Click here to learn more..】